Overburden Rock Core Cells & Flooding and Circulation Systems
We have applied our knowledge of advanced materials and proven high pressure sealing technology and applied it to the next generation of rock core analysis tools for NMR and MRI spectroscopy. The result was an overburden cell that delivers high strength and reliability while providing ease of assembly and disassembly. A unique threaded end plug design provides for fully self-contained pressure confinement. Separate flow paths provide for confinement pressure of the core and fluid flow through the core. Compatible with oil, brine, supercritical carbon dioxide and oter relevant fluids. The patented zirconia-based housing has been shown to have the lowest background signal of any core holder currently on the market. This makes possible the use of short time-to-echo spacings to accurately analyze tight rock formations. Download the performance comparison between the Daedalus cell and cells from two major vendors.
"Thank you Daedulus, for the NMR/MRI compatible core holder we employed in our high-pressure studies over the last year. When we commenced our project I anticipated that the core holder would be the most challenging aspect of our apparatus. I was wrong, the core holder was among the most reliable aspects of our apparatus, and was very easy and reliable to use." -Bruce Balcom

Known Compatible Instruments:
Oxford GeoSpec 2: 2 MHz and 12 MHz
Magritek Rock Core Analzer
Oxford Maran DRX2
Niumag Rock Core MRI
Aspect Imaging M12 MRI
Multi-Fluid Core injection:
The standard overburden cells provide for a single fluid path to the mounted core sample. With special end plugs it is possible to have dual and even triple injection on the larger cells for 1.5" diameter cores, it is not readily feasible on the smaller core holders for 1.0" cells.
To rectify this we have developed a three-channel core mount with a tight dispersion face that is compatible with the standard core holder configuration.  Injection of oil, brine, and supercritical carbon dioxide right at the face of the core sample can now be achieved.
This capability greatly extends the ability of the overburden cell to simulate reservoir conditions whether it is for the purpose of general reservoir characterization, enhanced oil recovery, or for testing the injectivity or integrity of carbon capture storage sites. 
We also provide complete fluid management systems including the new Xtreme-12R pump for core flooding applications and a pulseless  circulation system for confinement fluid control to 150 C and 10,000 psi.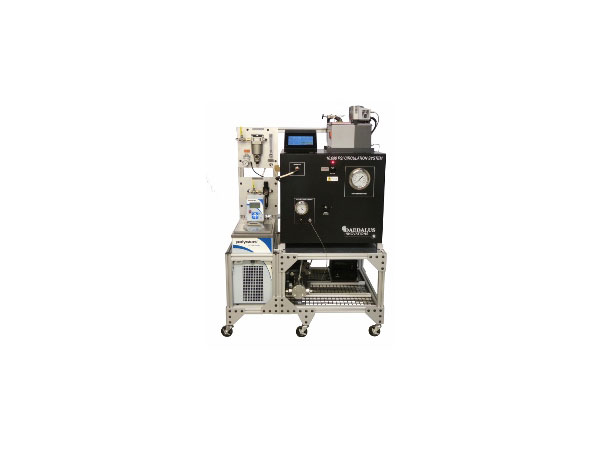 10,000 PSI Circulation System
Confinement Fluid Control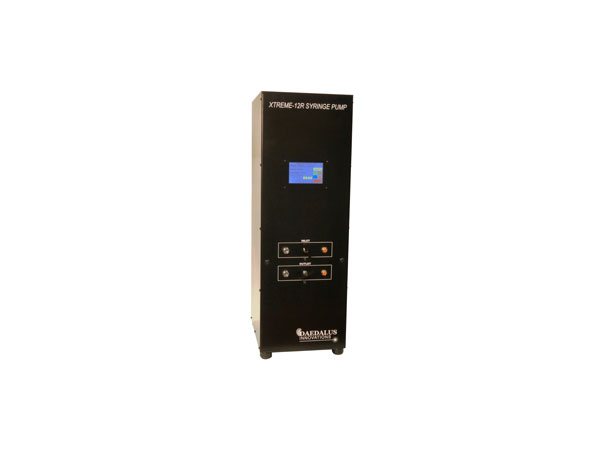 Xtreme-12R Pump
Flooding Fluid Control
Daedalus Innovations prides itself on its ability to produce cost-effective custom solutions for applications in high pressure and reverse micelle NMR spectroscopy. Our experienced staff can design and prototype advanced high pressure NMR sample cells and sample preparation technologies associated with these leading-edge applications.  Please contact us for an evaluation of your specific project.